"Such a wild natural place with great force and beauty and with land of exceptional potential"
When Eric de Rothschild visited Aussières in 1999 he was immediately charmed by this place of untamed beauty, with remarkable soul and history. The 170 hectares at the centre of the estate have been used to grow grapes for the better part of the last 2000 years.
Over the past 20 years, tremendous work and investment have been undertaken in both the vineyard and the winery, and Aussières is now recognized as one of the spearheads of the Languedoc's renaissance.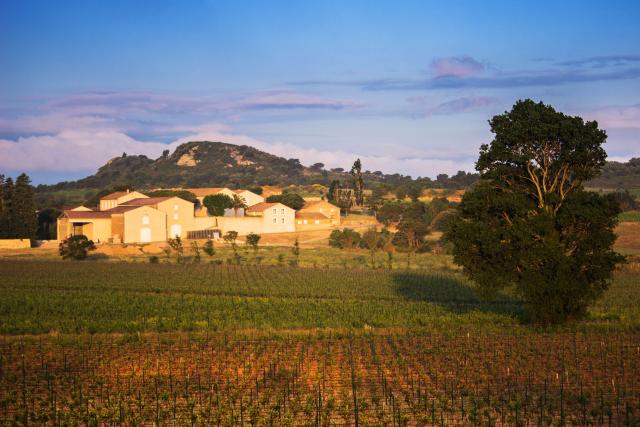 The vintage
This unusually wet start to the season was followed by some major climate incidents: the Languedoc experienced two frosts of a severity that had not been seen in the region for more than 25 years, which destroyed hundreds of hectares of vines. Nearly a third of Aussières' vines were affected and, for some of these, were completely destroyed.
In the areas not affected by the frost, the vintage was of very good quality, balance between temperatures and rainfall was close to the very good 2015, with a fine vegetative expression starting from budbreak up to maturity and through the flowering season. Weather conditions were then exceptional during September until October allowing to reach a great level of maturity on all grape varieties with great aromatic expression and good balance on the parcels.
Varietals
Syrah : 30%
Marselan : 25%
Merlot : 15%
Cabernet-sauvignon : 10%
Cabernet franc : 10%
others : 10%

Tasting notes
Deep red colour with indigo hues.
The nose reveals appealing notes of red fruit enhanced by hints of liquorice and a touch of spiciness from the Syrah.
On the palate, the wine is straightforward and pleasing, asserting its Mediterranean origins. Round and smooth with elegant tannins, it will pair beautifully with all types of dishes.
Serving
Temperature service : 14 to 16 °C
This wine is best enjoyed in its youth, within 2-3 years after bottling.