'It would have been nonsense not to acquire such a great neighbouring vineyard.' Baron Eric de Rothschild
Château Duhart-Milon
Just next to Château Lafite Rothschild, Château Duhart Milon was acquired by Domaines Barons de Rothschild (Lafite) in 1962. Legend has it that "Sieur Duhart" was a privateer under Louis XV who retired to Pauillac, and it was his house in Pauillac's port that inspired the label for Duhart Milon's wines. From the early 18th century, Milon's wines provided the Lord of Lafite with additional income, and became one of Château Lafite's "second wines", suggesting that the quality of the terroir was already recognized. The 1855 classification elevated Duhart Milon's status by making it the only fourth growth wine in the commune of Pauillac.

The 76 hectare vineyard in the Pauillac appellation is divided between Cabernet Sauvignon (67%) and Merlot (33%). It lies to the west of Château Lafite Rothschild, on the hillsides of Milon, which extend from Lafite's Carruades plateau. The average age of the vines is 30 years.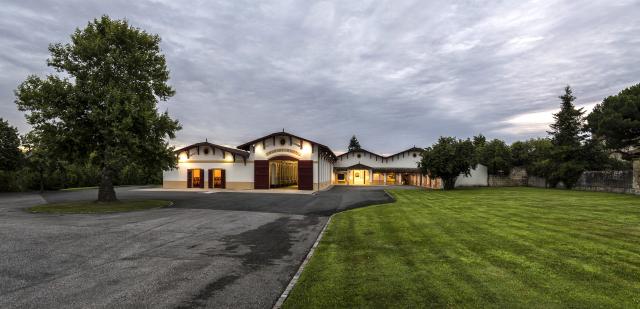 The vintage
At Duhart-Milon, the ideal moment to start harvesting our Merlot planted on gravelly soil arrived on 19 September. Those growing on clay were ready a little later. Once again this year, there was excellent complementarity between the Merlot grapes from the gravel plots (riper) and those from the clay plots (fresher and later ripening). This enabled us to obtain plenty of maturity for this grape variety, which accounts for a third of the blend, while at the same time preserving the freshness of the fruit. Our Cabernet Sauvignon vines seemed to be better prepared for the heat this year; the ripening process was not checked in July despite the heatwave, and there was then a progressive evolution of the berries during the more temperate weather in August. A little rain in mid-September was very beneficial for the end of ripening stage on Duhart-Milon's gravelly soil, which is more arid than the Lafite plateau.
Varietals
Merlot : 58%
Cabernet sauvignon : 42%

Tasting notes
Beautiful deep, dark colour.
Still reserved, the nose reveals superb roasted notes. These are followed by aromas of ripe red fruit, particularly fresh cherries.
On the palate, the notes remain delicate. The wine gradually develops body while remaining very well-balanced. The hint of sweetness on the finish is characteristic of the 2019 vintage.