'It would have been nonsense not to acquire such a great neighbouring vineyard.' Baron Eric de Rothschild
Château Duhart-Milon
Just next to Château Lafite Rothschild, Château Duhart Milon was acquired by Domaines Barons de Rothschild (Lafite) in 1962. Legend has it that "Sieur Duhart" was a privateer under Louis XV who retired to Pauillac, and it was his house in Pauillac's port that inspired the label for Duhart Milon's wines. From the early 18th century, Milon's wines provided the Lord of Lafite with additional income, and became one of Château Lafite's "second wines", suggesting that the quality of the terroir was already recognized. The 1855 classification elevated Duhart Milon's status by making it the only fourth growth wine in the commune of Pauillac.

The 76 hectare vineyard in the Pauillac appellation is divided between Cabernet Sauvignon (67%) and Merlot (33%). It lies to the west of Château Lafite Rothschild, on the hillsides of Milon, which extend from Lafite's Carruades plateau. The average age of the vines is 30 years.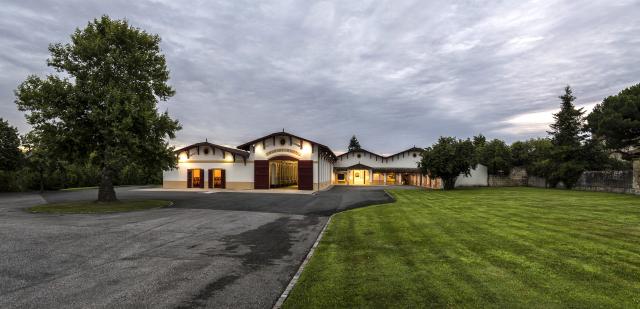 The vintage
On the eve of the celebrations marking the 150th anniversary of the acquisition of Château Lafite by the Rothschild family, our teams faced major challenges due to the capricious weather conditions. From December to July, unremitting rain increased the risk of mildew and hail. The summer only really started in mid-July with very high, sometimes extreme heat, which helped to restore the vines' health and set us on the path to a great vintage. Compared to Lafite, Duhart-Milon's terroir proved to be drier in 2018 for the Cabernet Sauvignon, but the Merlot terroir is more clayey, resulting in two different responses to the weather conditions. The Cabernet Sauvignon suffered from a lack of water over the summer, but some rain on 28th August and 5th September helped to restore the grapes' balance and for them to ripen correctly. The Merlot's more clayey terroir proved to be particularly well suited to the vintage, enabling some of the finest Merlot ever seen at Duhart to be obtained: a promising result for our Grand Vin, which always contains a considerable proportion of Merlot.
Varietals
Cabernet sauvignon : 65%
Merlot : 35%

Tasting notes
Beautiful dark red colour with glints of black.
The nose is still closed but presents all the characteristics of superb aromatic potential. Depth, complexity and oaky notes are already perfectly integrated.
On the palate the attack is soft and silky. Then, gradually, with the same softness, the wine invades the mouth, slowly revealing its fresh character, typical of Duhart-Milon's late-ripening terroir. A very dense wine with tight, delicate tannins creating excellent length on the palate. All the necessary qualities for a very promising future.